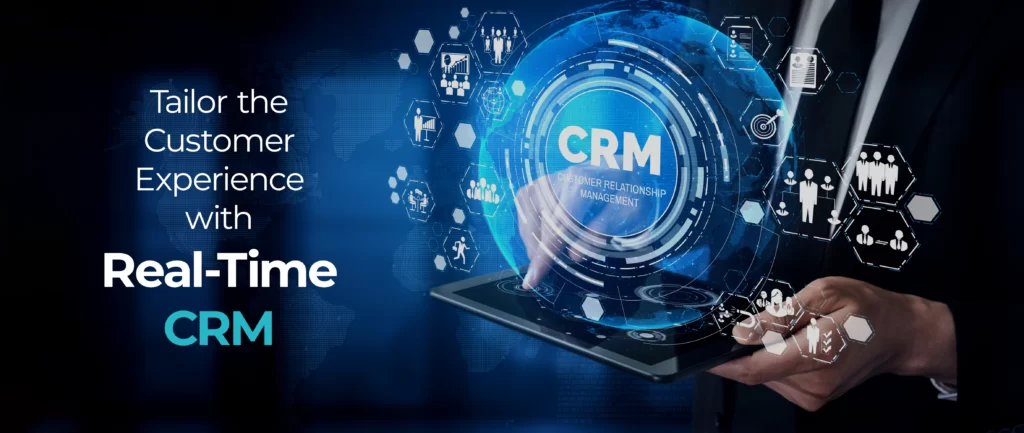 Real-time CRM is a customer relationship management system that can be used to collect and analyze customer feedback to manage & track your prospects. It does so in real time, meaning it is always up to date with the latest data on customers. 
With this information, companies can improve their products and services, or even make changes to their business strategy. It also helps them identify potential customers or leads. This is done by looking at past interactions with customers, such as what they bought and how they interacted with the company's social media accounts. 
 How Real-time CRM Works? 
Modern CRM systems are powered by real-time tracking capabilities enabled by AI and ML applications. As a result, real-time CRM gives businesses an advantage in tracking customer engagements, databases, and feedback on a day-to-day basis. It also aids in the automation of processes such as sales, marketing, and service operations. Another benefit of real-time CRM is that it provides up-to-date information on customers, leads, opportunities, and prospects. With the most recent insights, it is much easier for businesses to make sound decisions to generate more revenue and to delete outdated information from their system.  
As a result, real-time CRM is a system that enables companies to stay in touch with their customers and prospects. It is an automated process that provides useful information to sales representatives so they can make better decisions. It has three main benefits: 
Improves customer service 

 

Increases revenue

 

Enhances productivity

 
 4 Ways a Real-time CRM Software can be Used in Marketing and Sales Strategies 
Real-time CRM is becoming an increasingly popular business tool. It allows businesses to keep track of their customers and provide the best customer service possible. A real-time CRM software is intended to improve the customer engagement experience. They can collect customer data in real-time and use it to generate personalized messages. 
Furthermore, a real-time CRM software is more than just a tool for lead generation. It has the following applications: 
Creating and managing leads throughout their lifecycle

 

Improving sales performance by tracking and analyzing opportunities, deals, and pipeline

 

Increasing marketing efficiency by automating marketing campaigns

 

Enhancing customer experience with personalized customer service

 
 However, a question still prevails; "What is the best CRM for a startup or a business?" 
For an answer to this, we first need to understand that a business especially a startup or growing business needs to cater to its core requirement i.e (i) Their Employees (ii) Their Customer, and (iii) Their Vendors or External Stakeholders 
To cater to their employee, business needs standardization in maintaining employee records, pay scales, tracking performance, salary computation, managing payouts, Tax deduction, and more to better serve their employees.

 

To cater to their customer, businesses must effectively manage their customer database, ensure real-time active data, maintain constant communication, keep high engagements with the clients, provide quality customer service, collect feedback, and a lot more. This helps business build trust and generate more revenue.

 

Likewise catering to vendors and external stakeholders is an equally time-consuming job and with CRM it becomes a lot easier to connect with the vendors faster and maintain healthy relations by addressing them on regular basis.

 
Conclusion
So, the conclusion is CRM is for every business size be it a large organization or an early start-up setup. Hope through this article you will get a fair idea of how a CRM especially real-real-time CRM can help you achieve your business objective sooner in your business. CRMs a better to know the pulse of your business, stay ahead o of your competition by providing high customer satisfaction, and much more.  
Salesforce, ZOHO, Microsoft Dynamics, and Agile are a few CRMs that can help you achieve your business objectives. However, each CRM tool specializes in a different set of use cases, and some will be more appropriate for you than others. Check the price, features, and functionality before making a decision. Also worth noting is that Bizinso's CRM is a comprehensive, all-in-one feature CRM with a single price that is specially designed for businesses of all sizes.