Breathing Intelligence into Business Models
We help unlock hidden enterprise value by unraveling hidden insights within data reserves
Catapult your business to newer heights with analytics
Data is rightfully called the oil of the 21st century, but it takes special skills to extract useful information from it. And that is where we at Bizinso come into the picture. From helping businesses set up their data collection architecture to helping them extract actionable insights from the accumulated organizational data, we are a one-stop shop when it comes to meeting business analytics requirements.
Moreover, we help businesses embrace a nimble operating style characterized by greater intelligence in decision-making and strategy-building. Therefore, join hands with us to discover the competitive data-edge. Further, depending on our sector-specific experience and knowledge, we offer authoritative consultation and bespoke analytical solutions that are tailored to meet the requirements of every client that we work with.
We'll accelerate your journey from data to decisions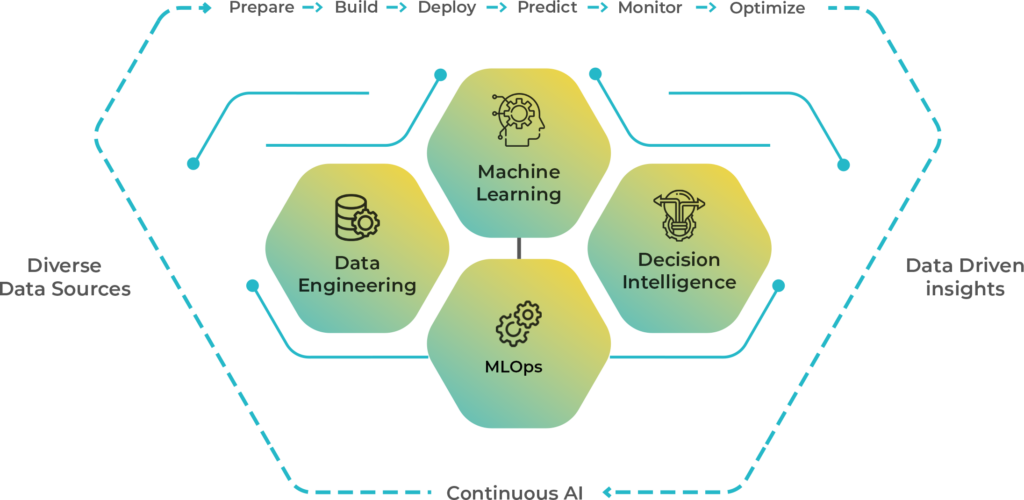 We leverage big data analytics to deliver business outcomes using our unparalleled domain expertise.
We follow the following 5-step consulting process to help our client businesses to go from Reactive to Proactive:
Requirement Gathering

To begin with, we patiently work towards understanding the exact nature of client pain-points and aspirations so that they remain the focus of all our further efforts.

Tech-Architecting

We design and develop data warehouses with the best technologies for data storage while following the highest security standards and protocol for guaranteed data integrity.

Solution Implementation

We help in setting up high-performance analytics systems with easy-to-read customizable dashboards that capture and display information to enable prompt management intervention.

Outcome Tracking

We stay conscient of the outcomes that our solutions yield to monitor whether they are in line with what was planned and expected.

Results-Driven Re-strategizing

Depending on the feedback we collect with respect to expected versus realized outcomes, we work towards re-modeling our solutions for continuous improvement.
Big Data Analytics – Reveal the best hidden secrets for commercial success
How Businesses stand to benefit
Retail Analytics
Data from in-store transactions often contains a treasure-trove of hidden information. Hence, we help set up technology for capturing such data in a processable form and help retailing outlets take smarter decisions for better outcomes when it comes to:
⦁ Product placement on store shelves for incentivizing impulse purchases
⦁ Inventory stock and procurement management to ensure optimal product stocking for all-time availability
⦁ Creating combo-offers through market basket analysis to increase the size of the average shopping cart
Marketing Analytics
The smartest of businesses are those that have their finger on the pulse of the market. And at Bizinso, indeed, we help build this connect to enable our clients to know their target customers as closely as possible. We have top-notch expertise in gathering and analyzing market data to:
⦁ Help shape better product development strategies
⦁ Understand target segment needs, wants, and desires
⦁ Maximize the marketing ROI through guiding the execution of effective promotional campaigns.
Operations Analytics
Operational excellence is the key to commercial sustainability of enterprises, especially in the world of cut-throat competition that we live in today. By leveraging our analytical capabilities, we help our clients in:
⦁ Making supply chains leaner
⦁ Minimizing operating costs
⦁ Reducing lead times
⦁ Achieving greater process efficiency
⦁ Enhancing profitability
⦁ Maximizing customer satisfaction
Business Intelligence and Visualisation
Our expertise in data wrangling enables us to help organizations discover such impossible-to-fathom insights that allow them to function in a smarter manner. We help businesses in achieving this through:
⦁ Interactive dashboards
⦁ Automated reporting solutions
⦁ Complete web & mobile applications development
⦁ App modernization & migration to Cloud
We specialize in bringing business organizations up-to-speed to compete in the Industry 4.0 era by injecting intelligence into their operating style.