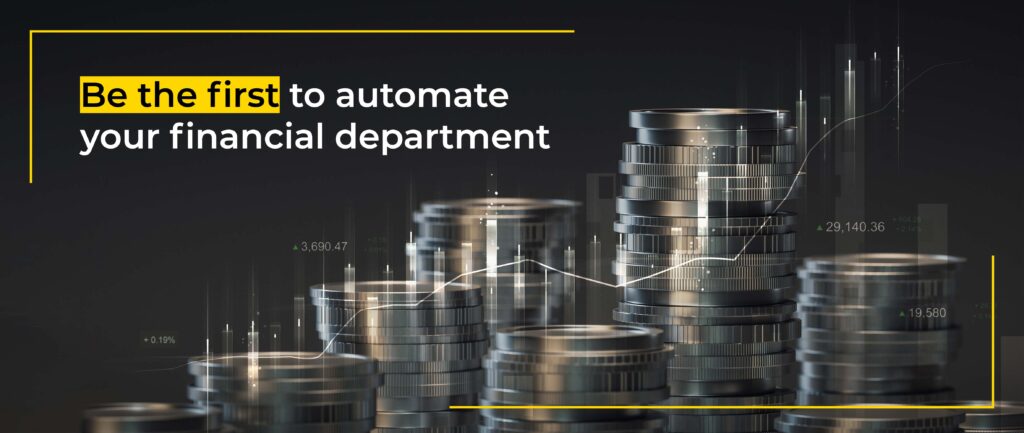 With an intuitive dashboard, automated workflows, and powerful reporting tools, automate your finance department. Give your team the ability to focus on what matters most – growing your business and delighting your customers. Artificial Intelligence is growing at a phenomenal pace. Fortune Business Insight covered, the global AI market is projected to rise from US $ 388 billion in 2022 to the US $1394.30 billion by 2029.
The Future of Finance Departments 
Many factors, including the proliferation of technology and globalization, are driving the transformation of finance departments. As a result, organizations are increasingly expected to provide more digital solutions to their employees. Despite this shift, the majority of finance department automation is limited to "data entry" tasks like fund transfers and currency conversions. Automation can be used in the future to help create competitive financial products and help organizations improve their efficiency. Finance departments can be automated in the following ways: – 
To process large amounts of data, use data analysis tools such as Big Data analytics, predictive modeling, and artificial intelligence.

 

Provide digital solutions for all employees including individuals, teams, and the executive

 
How Can Automation Be Incorporated into the Finance Department?
Our business practices are evolving due to automation. Many industries, including the finance division, have benefited from it. You can save time and money in the finance department while also providing better customer service if you automate. Due to the fact that it handles financial transactions, the finance department is an important part of any company. Automation can be useful in several ways to keep up with all this information, including the following: 
Automating the jobs of receptionists: Receptionist jobs can be automated to free up time for more crucial tasks like transaction analysis or other responsibilities. In some businesses, receptionists are even replaced by computers.

 

Streamlining the process of managing funds: By automating several tasks, it is easier to manage funds and better ensure that you and your company are following all laws and regulations. It also helps to reduce the costs of mistakes.

 

Increasing security: Automating tasks will make it easier to identify any potential threats in your company. This can also help in preventing fraud, as you will know everything that is going on with your company's funds.

 

Improving customer service: Automation can make it possible to spend more

 
How to Start Automating Your Finance Processes
Accounting is one of the most tedious and time-consuming tasks in the finance department. The process is repetitive and error-prone. To automate your accounting processes, you need to first identify which tasks are repetitive and error-prone. Then, you need to find a way to reduce those tasks (i.e., automate).  
Once you have identified the tasks that can be automated, it's time to find a solution that will help you get started with the automation process in finance. There are plenty of software solutions on the market today that can help you automate your financial processes. The only problem is – they are not created equally! 
Some solutions will charge by transactions processed or number of employees using it while others offer monthly subscriptions with unlimited transactions or employees. 
What Kind of Automation is Possible in the Finance Department? 
Automation has recently been a major topic in the finance department. With more and more business processes that need to be automated, finance departments are looking for ways to get the most out of their enterprise software. What automation strategies are available in the finance department? The finance department has a variety of options for automation, including:  
Automating manual processes with software or robotic process automation. 

 

Customizing existing enterprise software to automate tasks that were previously paper-based. 

 

Outsourcing manual processes to external providers such as financial and legal services.

 

Customizing existing enterprise software to automate tasks that were previously paper-based. 

 

Outsourcing manual processes to external providers such as financial and legal services. Cost Savings: Data entry is projected to be reduced by 80% of the current cost by automating these tasks with the SAP Cloud Platform, which will increase the time for tasks completed by 20%.

 

Consolidating multiple systems so that there is only one source of information. 

 

Implementing a single data warehouse to consolidate data in a central location.

 
5 Ways to Implement Automation in Your Company's Finance Department
The world is changing and so is the role of finance. The number of companies with fewer than 100 employees has increased by 300% since 1999 and they are using enterprise resource planning software to fully automate their business. This article will provide five ways to implement automation in your company's finance department, regardless of company size.  
Every company is looking for ways to reduce costs and increase productivity in today's competitive business environment. And therefore, one way to do this is by implementing automation in your company's finance department. There are five ways to implement automation in your company's finance department. 
Automate Accounts Payable

Implement Automated Invoicing

Implement Automated Receivables

Automate Your Accounting Processes

Leverage Artificial Intelligence
However, we can see that automation is the future of financial processes. Furthermore, it provides a lot of benefits and will make your work a lot easier. Moreover, the financial processes should be automated for the following reasons: 
– Automation saves time and money. 
– It can help you avoid mistakes. 
– It can help you keep up with the latest regulations. 
– Automation can reduce employee turnover.