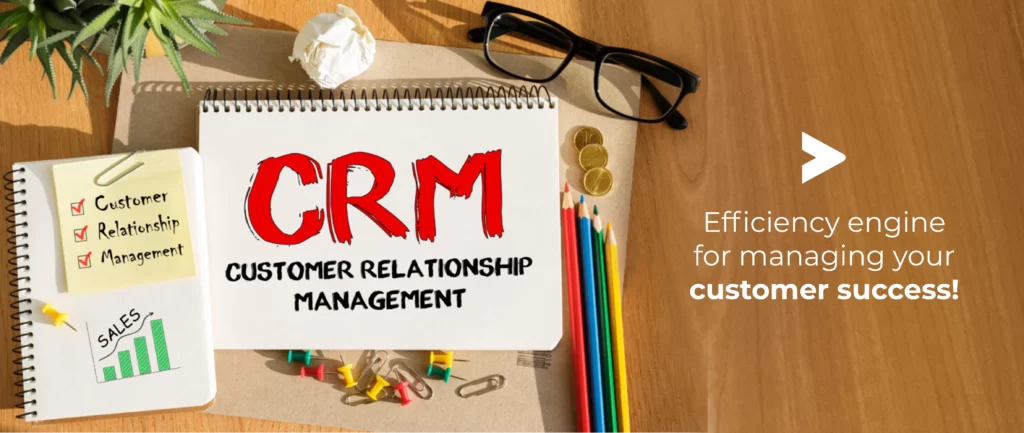 CRM solution is a must for any organization aiming to grow. CRM helps organizations in improving customer retention, upselling, cross-selling, lead generation, and much more. It is a business solution for all sizes of small and medium enterprises (SMEs). The CRM platform provides businesses with a seamless, simple, and cost-effective customer relationship management + customer experience management solution.
CRM Benefits to Organizations
Customer relationship management is a key part of the marketing strategy for any organization. It helps in managing customer data, creating and maintaining customer relationships, and also provides insights about customers. A CRM is a form of business software that involves electronic information systems, which are used for collecting and structuring data about customers for marketing activities.
Data collected through the CRM keeps track of everything about the customer including their purchase history, contact details, and preferences. Data analytics within the CRM helps in understanding customer behaviors so that relevant marketing messages can be delivered to them at the right time. CRM is designed to generate customer value by maximizing customer lifetime value (CLV).
Pitfalls of Using a Wrong CRM
There are many pitfalls of using the wrong CRM. The first pitfall is that it can lead to poor customer experience, which in turn can lead to low sales and an unhappy customer base. The second pitfall is that it may be difficult for the business to stay competitive without the right tools. The third pitfall is that it may be difficult for the company to have an accurate view of their customers and their needs, which will make them less efficient when working with them. The right CRM will make your business more efficient and competitive in the marketplace.
Best 4 Free Tools to Help You Manage & Organize Your Customer at zero to minimal cost
There are many CRMs in the market, but not all of them are great. Here sharing the best four picks for Customer Relationship Management tools that you can use for free by any industry and business.
Google Contacts: Google contact is a great tool to manage your contacts and leads. It is a Google product, so it integrates well with other Google products like Gmail and Google Calendar.
Mailchimp: Mailchimp is an email marketing service that helps you build and send emails to your subscribers. It also has a drag-and-drop editor which makes it easy to create newsletters or design emails.
Salesforce: Salesforce is one of the most popular CRMs in the world. It has all the features you would expect from a CRM like lead management, sales forecasting, marketing automation, and more. One downside is that Salesforce costs $150 per month for its basic package. For companies with a smaller budget, there is always a free trial. You can try out the software for 30 days and see if it works for you before committing to a monthly fee.
LinkedIn: LinkedIn is a social network that lets you connect with other professionals and companies. It has a targeted audience, who are looking for business opportunities and business partner matches. You can use it to find your next client or reach out to customers in your domain.
However, these mentioned ones are not comprehensive tools. These tools are great in their way but they do have limitations. Each is appropriate for a specific role or activity. Comprehensive CRMs platforms are mostly developed and customized to meet the needs and requirements of businesses, such as the one below, which has been created specifically for the travel industry.
CRM Especially for Travel Industry
Bizinso Pvt Ltd is an extended technology arm of Qtech Software, which has nearly two decades of experience and expertise in the travel domain. Bizinso has created a custom CRM software specifically for Travel Industry clients that allows them to:
Assist travel operators, agents, aggregators, suppliers, and corporations in making the most of their travel data in order to provide tailored, personalized customer experiences.
Real-time interaction with people to foster trust and loyalty: Many brands are struggling with how to use social media to communicate with their customers in this day and age. This is where interacting with people in real-time can be beneficial.
The travel CRM tool assists you in optimizing your performance and increasing the company's profitability. At Infinite, the travel CRM tool topped with modern technology can help you grow your business by providing actionable strategies and insights in no time.
How an Effective CRM Can Help You Achieve Success
We have seen the benefits of CRM in many aspects of business, and it can be used to help you achieve success.
It is important to find the right CRM system that will work for your business. There are many different features and functionalities that should be considered when choosing a CRM. software solution. There are many different CRM systems to choose from, each with its own set of benefits and drawbacks. The following are key aspects that should be considered by business owners when looking for a CRM software solution:-
⦁ Ease of use
⦁ Functionality
⦁ Cost/value
⦁ Company culture needs
The CRM system must be easy to use for employees and key stakeholders. The system should provide the optimal amount of data for employees to view at a glance and implement changes. The CRM software should enable daily tasks, such as scheduling meetings, locating contact information, and using social media. It is important to conduct research on the company's current methods of communication before choosing a CRM software solution.