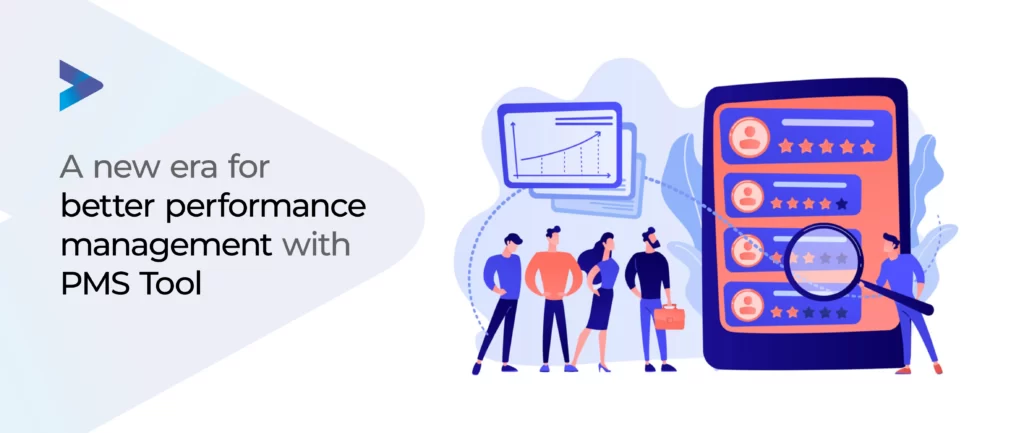 PMS tool to help Human resources department for an unbiased performance review.
Human resources are the most valuable asset to any organization's success. And, for improved employee morale and organizational effectiveness, performance management is the best practice that every company follows. The goal of performance management is to identify, encourage, measure, evaluate, improve, and reward employee work performance. Thankfully, there are PMS tools available to help make the process less painful.
Let's start with what exactly is Performance Evaluation
Performance evaluations are a rating of an employee's work. The timely performance evaluations help companies generate data about employees' performance and work style, both of which are important to an organization when it comes to decision-making about retention, promotion, and development. Being a systematic and periodic activity performance management is a mammoth task that is time-consuming and tedious, both. Thus, the PMS tool is the best way to help your HR department improve its processes with a SaaS-based solution powered by enabling artificial intelligence technology. There are two types of individual performance management system (i) Objectives and Key Results (OKR) and (ii) HR review-driven system. 
Objectives and Key Results (OKR)
 ORK is a most popular, simple, and commonly used system to set, track and measure the progress of an employee towards the set objectives on a regular basis.  
The 'objectives and key results' (OKR) is a

hierarchical system, wherein each individual has to set their respective objectives (usually 3-5 objectives) in sync with their manager and the manager's manager goals and so on.

 

Performance results can be weighted for an individual and rolled up to a manager.

 

The OKR reporting is done on a quarterly basis on a scale of 0-10

 

OKR can be a departmental strategic approach but it may not be centralized one.

 
 The OKR system is straightforward, and with the proper controls and structure, you can achieve fantastic results. It also specifies explicit responsibilities for employees, ensuring that everyone understands their role, has measurable goals, and works at a fast, consistent pace to achieve them. 
HR review-driven system
The HR review-driven system is not an alternative to OKR, but rather an additional approach to evaluating individuals on a broader matrix than just pre-stated objectives. This includes assessing one's performance based on their skills, aptitude, attitude, and collaborative abilities, which not only aid in the achievement of the company's goal but also foster a positive synergy of success within the larger group, department, or team. 
Reviews are Annual or semi-annual

 

Measures may include contributions to the organization (such as OKRs), as well as competencies, culture, and organizational growth/development.

 

Reviews are often managed by HR rather than a strategy office, as with the OKR system.

 
Now let's look at 5 important characteristics of an effective performance evaluation
Performance management is the systematic process of data collection, 360-degree analyses, and linking it to the overall goals of an organization. Performance management is a strategic business process that can lead to better employee morale and organizational effectiveness. The most effective performance management evaluation system has five important characteristics:  
Feedback should be accurate, informative, and timely

 

The feedback should be clear

 

Goals should be SMART

 

An evaluation process should be objective and fair

 

The evaluation process should be conducted regularly

 
However effective these time-old methods and practices may be; the question is, can there be a more robust, time-effective, and unbiased system to make the performance review more effective, agile, and welcoming by every employee and organization. The answer to this is obviously 'YES'.
Use of technology for effectiveness
With the given pace technology is evolving and the organizations are getting digital transformation to compete better, even individual departments like HR can uplift their game more effectively. Today, you can use AI-driven performance management software to tailor the results to your own needs. You can personalize the competency ratings and questions, as well as define how often you would like employees to be reviewed. You may also change how long these assessments take based on your preferences.  
You may also be wondering how the HR team of successful organization manage to orchestrate such complex and comprehensive performance plan. Answer is simple with the help of smart PMS tools. There are couple good PSM tools available in the market and one such is Bizinso's performance management software is a cost-effective and scalable solution for HR professionals. The software's design is based on the best practices of leading organizations.
A few benefits of automating the performance management system are:
Anytime customization with immediate intimation to the respective employees

 

A universal platform for sharing feedbacks that fosters transparency between appraiser & appraisee on n a real-time basis

 

Evaluation can be simplified and become regular on a monthly or quarterly basis with minimum time and efforts

 

Enables setting SMART goals with clear objectives and timelines

 

No human intervention in decision-making on employees' performance as the process is online, authority to customize lies with the super admin user, and its real-time based, thus fair process and evaluation

 

Save huge paperwork and documentation efforts