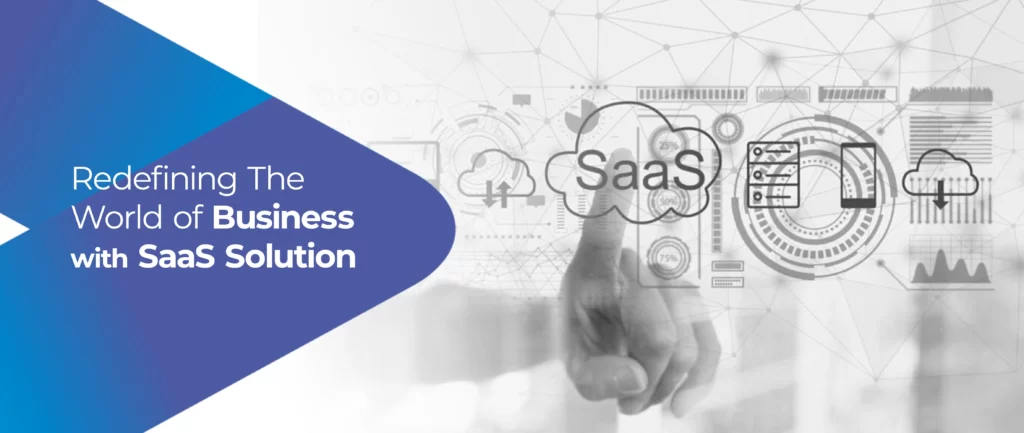 Why SaaS Solutions are A Game-changer and How They are Redefining the World of Business
Software as a service (SaaS) is a software licensing model in which the vendor provides applications to customers over the internet, rather than selling them a license to install the application on their own computer. 
This model offers numerous benefits. The main one is that you don't need to purchase any software upfront. You just pay a monthly or yearly fee and access all of your data from anywhere with an internet connection. This also means that you don't have to worry about upgrades or compatibility issues, because the vendor takes care of all those things for you.  
 As SaaS is an IT service model under which a software application is managed centrally, via the internet, and paid for on a subscription basis. This allows companies to harness the power of cloud computing without taking on extensive infrastructure costs or investing in software development.  
 Thus, the benefits of SaaS solutions are that they are easier to maintain and update. They also provide more scalability and flexibility. The customer has more control over what they want to do with their data because it is stored in the cloud. 
The Benefits of SaaS Solutions for Small Businesses 
Enterprises are usually the ones to benefit the most from SaaS solutions. However, small businesses are also starting to adopt them and get a lot of benefits. 
Requires only a minimum investment

 

Useful for all business needs

 

Includes a one-stop solution

 
Although many small businesses do not need a full-fledged IoT solution, they can still benefit from the simplification of managing their devices. As these solutions become more prevalent, it would be easier for small businesses to adopt them and have a clear view of their entire smart business infrastructure. 
 How SaaS Solution Can Benefit Big Enterprises 
Software as a service (SaaS) is a popular business model for software vendors. It has proven to be beneficial for both the vendor and the customer. 
The benefits of SaaS include: 
Reduced upfront costs

 

Increased flexibility

 

 

Reduced risk of obsolescence

 

Increased scalability

 

Lower maintenance costs

 
What is SaaS and What are the Different Types of SaaS
Software as a Service, or SaaS, is a form of cloud computing that allows an organization to rent software on a subscription basis. The software is hosted by the provider and accessed through the internet. This type of service is often seen as a cheaper alternative to purchasing software licenses for an organization. 
There are many different types of SaaS, but some examples include: –  
AI-managed business software

 

Cloud solution providers 

 

Enterprise Resource Planning (ERP) software

 

Online accounting software 

 

Social media software

 
Top Reasons Why You Should Invest in a SaaS Solution
There are numerous advantages to using a SaaS solution. It can be used as a central hub for all your business needs. A SaaS solution can help you to: –  
Save money and time on software licenses 

 

Get access to more features than you would with a traditional software package 

 

Keep up to date with the latest technology developments in the market 

 

Easily collaborate with colleagues and clients 

 

Ability to access it all from individual devices such as a tablet, phone, or laptop

 

Keep track of your spending and increase efficiency across your business 

 

Connect with more people in the industry

 
A SaaS platform also has an open API which allows integration into other software, so the developer doesn't have to worry about a proprietary solution. A business can improve its productivity by leveraging the SaaS platform's automated data collection, reporting, and analytics tools.  
The article concludes that SaaS solutions are becoming more and more popular as they provide an easy way to manage one's business. SaaS solutions are the best solution for businesses that need to scale their operations and need to do so quickly. They allow companies to focus on their core competencies and not have to worry about managing IT infrastructure.